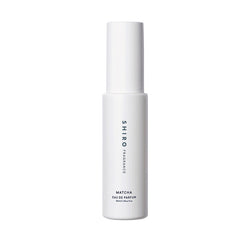 MATCHA EAU DE PARFUM (BOXLESS)
An earthy green tea fragrance that combines soothing green notes and fresh citrus with elegant floral undertones.

Experience the elegance of our Eau De Parfum, enriched with a gentle floral overlay, clear green notes, and a touch of citrus. This fragrance captures the essence of Matcha, combining freshness and mellowness, making it perfect for the humid rainy season and hot weather. Its atmospheric nature pairs beautifully with yukata and Japanese kimonos, adding an extra touch of charm to your ensemble.

The fresh green floral aroma also serves as a refreshing change of pace when you're on the go. Depending on where you apply it, such as around your neck or wrist, the fragrance subtly transforms, allowing you to tailor it to your mood and preference.

With a lasting power of approximately 5-6 hours, this fragrance will accompany you throughout your day, leaving a delightful and lingering scent that captures the essence of tranquility and beauty.

POINTS
To enhance the strength of the fragrance, apply it generously around the wrists, neck, and behind the ears, as these areas are more prone to capturing and diffusing the scent effectively, particularly in proximity to the face.

For a more subtle and delicate aroma, consider applying the fragrance around the waist, behind the knees, on the feet, and inner thighs. These areas will release a softer and more intimate scent, offering a subtle allure as you move.

NOTES:
Fresh green and citrus fruits along with elegant floral notes.
Size: 40mL
This product does not come in a box.

Spray an appropriate amount about 15cm away from the skin.
ALCOHOL, PARFUM, AQUA, BENZYL BENZOATE, CITRAL, CITRONELLOL, COUMARIN, LIMONENE, GERANIOL, ISOEUGENOL, LINALOOL.
・Can I spray it on my hair or clothes?
→No. As alcohol is used, there is a risk of damaging your hair and clothes, so please avoid applying it directly to them.
To enjoy the soft fragrance in your hair or on your clothes, we recommend spraying it once or twice in the space and passing under it.
・How long does the eau de parfum keep its fragrance if it is stored unopened?
→The eau de parfum is manufactured to retain its quality for up to three years in the unopened state.
To prevent deterioration, please use the product as soon as possible after opening.
We recommend avoiding high temperatures and humidity for storing.
・Can the products be shipped overseas?
→Please contact the shipping company for more information.