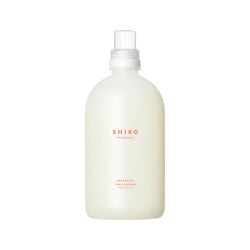 SAKURA219 FABRIC SOFTENER (BOXLESS)
"Sakura 219" was first launched in Japan in the spring of 2012 and has since been available as a limited-edition fragrance every New Year since 2018. This fragrance was inspired by a student preparing for an entrance exam, and we wished her success and a fresh new start, which is reflected in the fragrance's name after 219 trials. The letters printed on the product are a soft, deep, and elegant "Choshun-iro," which means forever spring, a special colour only for "Sakura 219" amongst all other SHIRO products.

This fabric softener is a recurring item in Sakura 219. The plant-derived softening ingredients gently fluff up fabrics that come in contact with bare skin, while also maintaining their water absorbency. A pleasant fragrance wafts from clothes and towels. The softener smooths the surface of fabrics, preventing static electricity, dust, and pollen from adhering to them.
Recommended number of uses: One bottle can be used approximately 20 times.

Points to note:
・This product can be used in both vertical and drum-type washing machines. However, if detergent is left in the washer for a long time, it may separate or clump. The amount of fragrance will vary depending on the amount of detergent used, so please adjust the fragrance to your preference.
・The gentle fragrance that wafts from the clothes as they move makes this item easy to use for everyone.
・You can enjoy washing clothes while being enveloped in the scent of Sakura 219.

TOP: Peach, Green notes, Grapefruit
MIDDLE: Muguet, Jasmine, Laurel
BASE: Musk

Size: 500mL
This product does not come in a box.

Shake this product well and add 40L of water or 25mL (1.5 capfuls) per 3-4kg of laundry when rinsing.
[Use] For cotton, wool, and synthetic fibers
5-15 % CATIONIC SURFACTANTS, <5% NON-IONIC SURFACTANTS,METHYLCHLOROISOTHIAZOLINONE,METHYLISOTHIAZOLINONE,PERFUMES,ALPHA-ISOMETHYL IONONE,BENZYL BENZOATE,CITRONELLOL, LIMONENE,HEXYL CINNAMAL, LINALOOL.