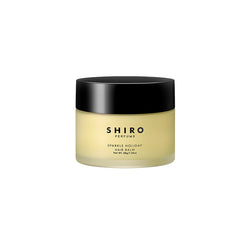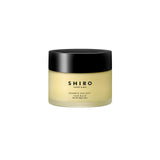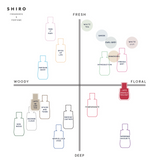 SPARKLE HOLIDAY HAIR BALM (BOXLESS)
This Hair Balm moisturises the hair, giving it a smoother feel. Whether you're aiming for a glossy finish or enhanced hair movement, this balm allows you to explore various styles.
Formulated with vegetable-derived oils of olive*1 and calendula*2, any remaining balm on your palms can be used to moisturise dry areas like hands or elbows.

*1 Olea Europaea (Olive) Fruit Oil / moisturising ingredient *2 Calendula officinalis flower extract / moisturising ingredient.
<Duration of Fragrance> Approximately 2 hours
TOP: Apple, Bergamot, Rum, Raspberry
MIDDLE: Damask Rose, Jasmine, Magnolia
BASE: White Musk, Vanilla, Patchouli
Size: 38g
This product does not come in a box.

Dispense a small portion onto your palm, spread it thoroughly, and then apply. This product serves multiple purposes, including hair styling, hair treatment, and moisturising for the entire body.
SIMMONDSIACHINENSISSEEDOIL,PRUNUSARMENIACAKERNELOIL,HYDROGENATEDFARNESENE,CERAALBA,PARFUM,OLEAEUROPAEAFRUITOIL,HELIANTHUSANNUUSSEEDOIL,TOCOPHEROL,CALENDULAOFFICINALISFLOWEREXTRACT,BENZYLBENZOATE,CITRONELLOL,LIMONENE,GERANIOL,HEXYLCINNAMAL,LINALOOL.
・Please customize your usage based on your hair's condition. For instance, if your hair ends tend to be dry, we recommend using it in conjunction with a hair mist. For a shinier finish, consider combining it with a hair oil.
・Applying this to the tips of your hair allows you to lightly wear the SPARKLE HOLIDAY fragrance.