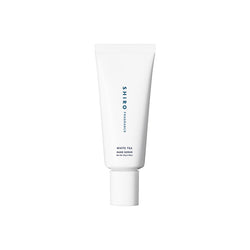 WHITE TEA HAND SERUM (BOXLESS)
This smoothing Hand Serum contains jojoba oil*1, gagome kombu*2, and shea butter*3 to replenish moisture. Its watery light texture blends well into the skin while moisturising the hands for a smoother touch. It is a lifesaver for dryness and roughness caused by house chores and excessive hand washing. We have changed the product to a tube-type container, allowing it to be used to its fullest, ensuring every drop of the product is utilized.

Calming "White Tea" with a deep tea scent in a refreshing citrus tone.

*1 Jojoba seed oil / moisturising ingredient *2 Gagome extract / moisturising ingredient *3 Shea butter / moisturising ingredient

Starting from October 2023, the product's container has been changed from a bottle to a tube type. To view the product with the previous container, please click [here].

Some fragrances in White Tea have been changed since July 2023.
Click [here] to see the products before the renewal.
TOP: Grapefruit, Lemon, Greens
MIDDLE: Green tea, Jasmine, Rose, Lily
BASE: Musk, Woods, Amber


Size: 55g
This product is without paper box
Apply an appropriate amount on dry areas of your hands and fingers.
AQUA,BUTYLENE GLYCOL,GLYCERIN,SIMMONDSIA CHINENSIS SEED OIL,PARFUM,OCTYLDODECYL MYRISTATE,HYDROGENATED CASTOR OIL ISOSTEARATE,BUTYROSPERMUM PARKII BUTTER,DIETHYLPENTANEDIOL DINEOPENTANOATE,1,2-HEXANE DIOL,HYDROXYETHYL ACRYLATE/SODIUM ACRYLOYL DIMETHYL TAURATE COPOLYMER,PHENOXYETHANOL,CARBOMER,SQUALANE,ARGININE,HYDROGENATED LECITHIN,POLYSORBATE 60,TOCOPHEROL,XANTHAN GUM,SORBITAN ISOSTEARATE,KJELLMANIELLA CRASSIFOLIA EXTRACT,METHYLPARABEN,BENZYL BENZOATE,CITRAL,CITRONELLOL,LIMONENE,GERANIOL,HEXYL CINNAMAL,LINALOOL.
・What is the difference between the bottle type and the tube type of this product?
→ To ensure that you can use every last drop of the Hand Serum, we've transitioned from the traditional bottle container to a tube type starting Thursday, 12 October 2023. There are no changes in the ingredients or texture of the Hand Serum. For more information, click [here].

・Is there a substantial difference between the scents after the reformulation?
→The new White Tea is not significantly different from the previous version, as the composition of the existing fragrance has been retained. The balance of the fragrance has been changed so that the bergamot in the top note is stronger, and the lemon remaining in the middle to base notes is replaced by a deeper tea that leaves a stronger impression, resulting in a more profound fragrance. Additionally, we have replaced the sake kasu ingredients with gagome extract to adjust the texture of the product.

・Can I still buy the fragrance before reformulation?
→Click [here] to find the product page of the Before Renewal White Tea Hand Serum.

・If I want to send this to someone who lives abroad, will there be any issues?
→ This will depend on the shipping system of the mailing company. Please check with your postal distributor.