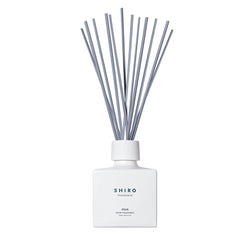 PEAR ROOM FRAGRANCE (BOXLESS)
A fragrance item that fills the air of your room with its pleasant scent.
The scent spreads naturally in the entrance, living room and bedroom.
The refreshing, fruity scent of pear will lead you to a relaxing space.

<Scent duration> Approximately two and a half months

* You can regulate the intensity of the scent by adjusting the number of diffusing sticks according to the size of the room and your own preference.

Size: 200mL
This product is without paper box
Remove cap. Remove inner lid by pushing it from hole at the top. Reattach the cap and insert the diffuser sticks into the bottle to spread the scent. If the scent runs out, replace fragrance bottle even if liquid is remaining. One bottle lasts about two and a half months.
*Use in a flat and safe space to avoid spilling.
*Liquid may stain floor or furniture if spilled.
ALCOHOL,PARFUM,DIPROPYLENE GLYCOL,BENZYL BENZOATE,CITRONELLOL,LIMONENE,GERANIOL,LINALOOL.