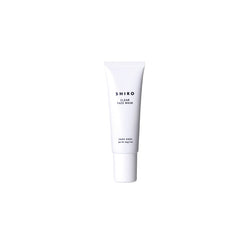 SAKE KASU FACIAL MASK (BOXLESS)
Nourish dry and sun-damaged skin with this rinse-off face mask. This simple yet effective blend of sake kasu, sesame seed oil and gagome kombu essence moisturises and tightens skin for a glowing finish.
For everyday use (recommended), 1 tube typically lasts 1 week. For use as part of a once-a-week skincare regimen, 1 tube typically lasts 4-6 weeks. 
*Please do not use if you are allergic to sesame.*
Size: 30g
This product does not come in a box.
Massage tube thoroughly before use. On clean and dry skin, apply a cherry-sized amount of face mask evenly onto skin, avoiding the eye area. Let mask absorb for 5-10 minutes. Rinse off with warm water.
*Store in a dry place to ensure water does not mix into product.*
Sake Kasu: Our sake kasu is sourced from from Kobayashi Brewery, a historic sake brewery in Hokkaido, Japan. With a delicate and sweet fragrance, it's also full of nourishing and highly moisturising rice extract and kouji that helps achieve smooth, hydrated skin.
Sesame: With a rich, natural scent and an abundance of essential elements for beautiful skin, sesame is highly recommended for aging care.
Gagome Kombu: Rich with nutrients deep from the sea, our gagome kombu is sourced from Hakodate, Hokkaido. It contains especially high amounts of gelatinous compounds full of fucoidan and alginic acid, which helps skin retain its moisture.
RICE FERMENT LEES, AQUA, BUTYLENE GLYCOL, SESAMUM INDICUM SEED OIL, KJELLMANIELLA CRASSIFOLIA EXTRACT, METHYLPARABEN.