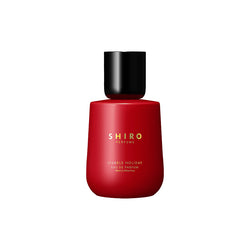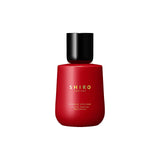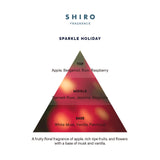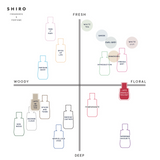 SPARKLE HOLIDAY EAU DE PARFUM (BOXLESS)
This fragrance embodies the essence of a mature fruity scent, blending notes of rum, raspberry, and red ripe apples. It strikes a harmonious balance with elegant floral undertones of damask rose and jasmine, complemented by white musk and vanilla.
Encased in a limited edition vibrant sparkle red bottle with our logo in gold, it evokes the exhilarating memories of the holiday season.

<Duration of Fragrance> Approximately 5 to 6 hours

TOP: Apple, Bergamot, Rum, Raspberry
MIDDLE: Damask Rose, Jasmine, Magnolia
BASE: White Musk, Vanilla, Patchouli
Size:
50mL
This product 
does not come in a box.
Spray an appropriate amount to the skin keeping approximately 15 cm distance from the skin. How the fragrance spreads differ depending on where it is applied.
ALCOHOL,PARFUM,DIPROPYLENEGLYCOL,CITRUSJUNOSPEELWATER,PPG-2-DECETH-7,PEG-40HYDROGENATEDCASTOROILPCAISOSTEARATE,TOCOPHEROL,BENZYLALCOHOL,BENZYLBENZOATE,CITRAL,CITRONELLOL,LIMONENE,GERANIOL,HEXYLCINNAMAL,LINALOOL.
・For a more pronounced scent, apply to your wrist, neck, or behind your ears. The fragrance will gently radiate when applied to your hands.
・To fully savour the fragrance at home, consider applying it to your waist, the back of your knees, ankles, and inner thighs.
・Instead of regular water, we use distilled kito yuzu*1 water from Tokushima, Japan, resulting in a deeper and more opulent fragrance.
*1 Yuzu peel water / moisturising and fragrance ingredient.
・Can I use it on hair or clothing?
→ We recommend avoiding application on hair or clothing due to its alcohol content, which may cause damage. For a softer fragrance application, spray 1~2 times in the air and walk through the mist.
・How long does the fragrance last if it is unopened?
→ We design the product to maintain its quality for 3 years when unopened. After opening, it's best to use it promptly. Please store the product at room temperature, avoiding heat and humidity.
・If I want to send this to someone living abroad, will there be any issues?
→ This will depend on the shipping policies of the courier company. Please consult with your local postal distributor for more information.