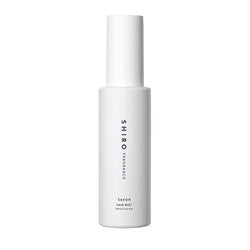 SAVON HAIR MIST 22 (BOXLESS)
With gagome kombu extract*1 and yuzu*2 ceramide, this hair mist moisturises and reduces damage for shinier and smoother hair. Also adds a hint of the sophisticated fragrance to your hair.

The scent of "Savon" is inspired by clean soap with refreshing fruity notes.

Some fragrances have changed from February 2023. Click here for renewed scents.

*1 Gagome extract *2 Yuzu fruit extract, Yuzu peel water (both moisturising)

<Recommended usage>
After applying the "Hair Mist" to the entire hair, apply the "Hair Oil" to the ends of the hair for a more manageable and glossy finish.
TOP: Lemon, Orange, Blackcurrant, Lychee
MIDDLE: Rose, Jasmine, Muguet, Plum
BASE: Musk, Amber, Woods, Sweet
Size: 80mL
This product does not come in a box.
Spray an appropriate amount about 10 cm away from the hair. Please use it before styling products such as hair oil.
AQUA, ALCOHOL, GLYCERIN, DIPROPYLENE GLYCOL, CITRUS JUNOS PEEL WATER, PEG-40 HYDROGENATED CASTOR OIL, BETAINE , PARFUM, BUTYLENE GLYCOL , METHYLPARABEN, DIHYDROXYPROPYL ARGININE HCl, PHENOXYETHANOL, KJELLMANIELLA CRASSIFOLIA EXTRACT , CITRUS JUNOS FRUIT EXTRACT, BENZYL BENZOATE, CITRAL, CITRONELLOL, LIMONENE, HEXYL CINNAMAL , HYDROXYCITRONELLAL.
・Is there a substantial difference between the scents after the reformulation?
→The new Savon range is finished with a similar composition as the former scent, therefore there is no significant difference.
We enhanced the citrus and fruity accords of the top notes to add more freshness. Additionally, the base note is slightly less sweet, making it easier for people of all ages to use in any season.
・Can you ship overseas?
→Since regulations may differ depending on the type of international mail and transportation, please check with the transportation company for details.
・Can it be distinguished from the product before the reformulation?
→ The product with a 1cm bar line near the product barcode will be the product after the renewal.
How to distinguish products after the renewal.