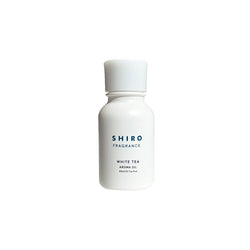 【BEFORE RENEWAL】WHITE TEA AROMA OIL (BOXLESS)
Enjoy a fulfilling and relaxing time surrounded by a fresh scent at any time.

It can be used in a variety of ways to suit your place and lifestyle, such as relaxing in your room, as well as your desk, in the entryway and even by your bedside before going to bed.
A calming, gentle and classy fragrance filled with the freshness of citrus and green notes.

<Recommended usage>
On your desk
When you want to concentrate, add 3 to 6 drops to the aroma stone to refresh the air.
On your bedside
Before you go to bed, put 3-6 drops on an aroma stone or a tissue to calm your mind.

<Duration of fragrance>
Enjoy the different strengths of the scent by changing the amount used according to your preference.
TOP: Grapefruit, Lemon, Greens
MIDDLE: Green tea, Jasmine, Rose, Lily
BASE: Musk, Woods, Amber


Size: 20mL
This product does not come in a box.
Add 3 to 6 drops to an aroma stone and enjoy the scent. (6 drops can be used for 66 times.)
[Precautions for use]
・As this is a product intended to spread fragrance in a space, it contains a high amount of fragrance. Avoid massaging the skin or using it on areas that come into direct contact with the skin.
・Be careful not to swallow it by mistake.
・We do not recommend using it in a diffuser. It may cause machine failure.
・Add a few drops to an aroma stone or potpourri.
※Fire strictly prohibited
PARFUM, ALCOHOL, BENZYL ALCOHOL, BENZYL BENZOATE, CITRAL, CITRONELLOL, LIMONENE, GERANIOL, HEXYL CINNAMAL, LINALOOL.
・Can it be used in a humidifier?
→ Please use a dedicated diffuser or aroma pod for aroma oil. Please check the instruction manual of the humidifier to see if it is compatible with aroma oil.
・Is it 100% essential oil (or pure essential oil)?
→ This product is not 100% essential oil.
・Can you ship overseas?
→Since regulations may differ depending on the type of international mail and transportation, please check with the transportation company for details.
・Can it be distinguished from the product before the reformulation?
→ The product with a 1cm bar line near the product barcode will be the product after the renewal.
How to distinguish products after the renewal.