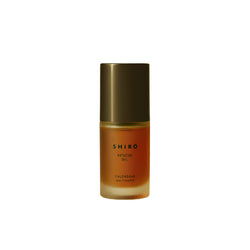 [OIL COLLECTION] CALENDULA OIL (BOXLESS)
-RESCUE FACE OIL-
Calendula oil protects the skin and prevents blemishes.

Calendula oil can be used for a wide range of skin types such as dry, mixed, and sensitive skin.
Apply the oil after washing your face and before starting your usual skincare routine, particularly if the skin feels delicate.
By applying it to the bare skin, you can feel the power of the oil on your skin even more.
Scent: The fresh scent of orange mixed with the calming lavender.

Size: 30mL
This product does not come in a box.
Incorporate it into your daily skincare steps and use it at a comfortable time.
・Start your skincare routine with oil
After washing your face, apply it right at the beginning of the skincare routine to keep your skin soft and enhance the effect of skin care.
・Mix with serum
Mixing the oil with beauty essence makes it easier and faster to reach and moisturize the outer layer of the skin. We recommend using a moisturizing serum.
・For oil mask
While soaking in the bathtub, spread plenty of oil all over your face and use it as a luxurious oil mask.
CALENDULA
-Awaji Island, Hyogo Prefecture, Japan-
Calendula has been famous as a talisman herb for treating damaged to sensitive skin.
Awaji Island Hirota Farm's calendula are grown as edible flowers without pesticides, and the extracted oil has a bright orange colour like its actual flower petals.
Extraction method: Soak the red-coloured calendula flowers in sunflower oil to extract the ingredient.
HELIANTHUS ANNUUS SEED OIL, LIMONENE, PARFUM, LAVANDULA ANGUSTIFOLIA OIL, ANTHEMIS NOBILIS FLOWER OIL, CITRUS AURANTIUM DULCIS PEEL OIL, CALENDULA OFFICINALIS, FLOWER EXTRACT, CITRAL, GERANIOL, LINALOOL.