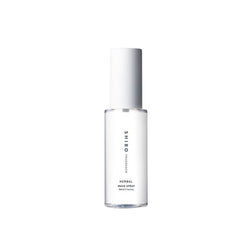 HERBAL MASK SPRAY
It uses mineral ionized water, which is gentle to the skin.
Just spray it on, and the pleasant scent will envelop your mask, leaving it clean and fresh.
It is also recommended for those who wear masks for a long time.
Since it does not contain alcohol, it does not irritate the skin when sprayed on the inside of the mask.

The scent is a blend of essential oils such as eucalyptus and grapefruit, and cool menthol, which gives a pleasant feeling of being in a forest where plants and trees are alive and growing.
The scent comes from an essential oil that can be used as a food additive, so it is safe to use on masks that come in direct contact with the skin and mouth.

Due to the characteristics of the raw material, the essential oil may separate and float to the surface or split into two layers. Please shake well before use.
Size : 50mL
The essential oil may be floating, so shake it lightly before use.
Spray 5 to 6 times on the inside or outside of the mask.
Then allow it to dry completely before using the mask.
Before spraying,spray on inconspicuous areas and check for stains before using. 
*Caution
Should not be entered into eyes. In case of contact with eyes, rinse with a plenty of water.
Keep away from heat and direct light. Keep away from children.
As natural raw materials are used, some colour change may occur.
May contain some sediment. However, this does not affect item quality.
AQUA,POLYGLYCERYL-10 LAURATE,EUCALYPTUS GLOBULUS LEAF OIL,MINERAL SALTS,CITRUS GRANDIS PEEL OIL,MENTHOL,LIMONENE