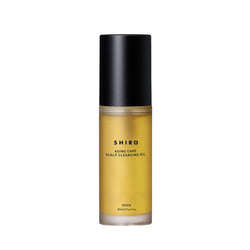 NEEM SCALP CLEANSING OIL (BOXLESS)
While cleanly removing dirt and clogging of pores
Moisturizes the scalp and keeps it soft
A cleansing oil for the scalp that cleans and removes dirt and clogging of pores.
Neem oil * 1 moisturizes and protects the scalp, and ginger * 2 and licorice * 3 lead to a healthy scalp that nurtures supple hair.

Massage prevents problems such as redness, itchiness and dandruff caused by dry scalp and maintains a healthy scalp environment.
By eliminating the clogging of excess sebum, you can approach all kinds of hair problems such as habits, swells, and fine hair.
Mentha * 4 brings a refreshing feeling and also cares for the annoying odor of the scalp caused by the oxidation of waste products.

If you are concerned about sebum or dandruff, you can use it as intensive care every other day, or add it to your usual care as a special care once a week, so you can take care according to the condition of your scalp * 5.

* If you are allergic to sesame seeds, please refrain from using it.

* 1 Neem oil (Melia Azajirakuta seed oil) / Moisturizing / Skin conditioning * 2 Ginger (Ginger root stem extract) / Skin conditioning * 3 Kanzo (Uralkan elephant root extract) / Skin conditioning
* 4 Mentha (Mentha oil) / Cooling * 5 When the scalp is sensitive, continuous use without intervals may cause irritation. Please use according to the condition of the scalp.

Size: 80mL
This product does not come in a box.

You can use it for about 16 times with 25 pushes at a time.
・ Start using as intensive care every other day → about 1 month
・ If the scalp becomes soft, use it once a week → about 4 months
Apply an appropriate amount (about 20 to 25 pushes) directly to the entire scalp before shampooing.
Massage to rub into the scalp, add a small amount of water and whisk.
Apply foam to the entire hair and wash it off gently.
Then do regular shampoo.
* Because the scalp is dirty at the beginning of use, every other day.
Once your scalp is clean and you start to feel the ease of foaming, we recommend using it once a week. * 1
* Because it contains mint oil, be careful not to get it in your eyes or nose.
If it gets in your eyes or nose, rinse thoroughly with running water.
* 1 When the scalp is sensitive, you may feel irritation if you continue to use it without intervals. Please use according to the condition of the scalp.
Neem: The neem tree has been used in India and Sri Lanka for traditional medicinal use. Often called a 'village pharmacy,' every part of the neem tree — its leaves, bark, branches and seeds — provides valuable elements. With various anti-inflammatory, anti-bacterial and immune-stimulating properties, it was also used in traditional Ayurvedic medicine. We source our neem oil from India and Africa, and our neem extract from India.
VITIS VINIFERA SEED OIL,MIPA-C12-14 SEC-PARETH-3 ACETATE,SESAMUM INDICUM SEED OIL,AQUA,CAPRYLIC/CAPRIC TRIGLYCERIDE,MENTHA ARVENSIS LEAF OIL,HELIANTHUS ANNUUS SEED OIL,MELIA AZADIRACHTA SEED OIL,PARFUM,ALCOHOL,BOSWELLIA SERRATA OIL,BOSWELLIA CARTERII OIL,ZINGIBER OFFICINALE RHIZOME EXTRACT,GLYCYRRHIZA URALENSIS ROOT EXTRACT,BHT,APIUM GRAVEOLENS SEED EXTRACT,CITRAL,CITRONELLOL,LIMONENE,EUGENOL,LINALOOL.
<Scent>
An oriental woody scent that combines fresh sweetness with fresh herbs and deep spiciness.
<Recommended for people like this>
・ Those who are worried about hair habits and swells (Freezy hair)
・ Those who are worried about the top of the head and part parts (big parting and thining)
・ Those who are concerned about the smell and dandruff of the scalp
<Frequently Asked Questions>
・ why don't foam, is it cleansing?
→ It is recommended to use it intensively every other day because it is hard to foam when the dirt is accumulated at the beginning of use.
In addition, it may be difficult to foam depending on the condition of sebum on the scalp or when a large amount of styling agent such as wax is applied.
It is also recommended that you brush thoroughly before applying.
・ Can it wash my hair?
→ Because the prescription is designed exclusively for the scalp, please wash your hair thoroughly with a special shampoo.
SHIRO offers lees shampoo and Gagome kelp shampoo.
Please choose according to your hair quality.
・ Can I use it more than once a week?
→ It is recommended to use it every other day in spring and summer and once a week in autumn and winter.
Please adjust the number of times of use according to the condition of your scalp, such as those who are prone to sebum and in the summer.
・ Recommend to use before or after taking a bath?
→ It is recommended that you soak in the bathtub and use it in a state where it is warmed up a little and the tour is better.
It also makes it easier to open pores and improves circulation, so it is easy to get a massage effect.
・ Can I use it even during pregnancy?
→ You can use it even during pregnancy, but your skin may become sensitive or you may have unexpected skin problems.
Also, since essential oils are used, we recommend that you consult your doctor before using if you are worried.