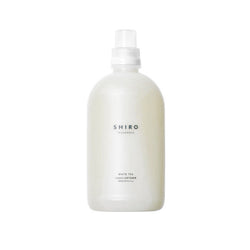 【BEFORE RENEWAL】WHITE TEA FABRIC SOFTENER Concentrated type
Our fabric softener faintly scents your clothes and freshens your room to enjoy all day.
Scented with White Tea, our calming and subtle scent with notes of grapefruit and citrus.
Plant-derived softening ingredients make clothes fluffy and maintain water absorbency.
By smoothing the surface of the fabric, static electricity is less likely to occur, and dust and pollen are less likely to adhere to the clothes.
※The color of the liquid is whiter than the regular type, but there is no problem with the quality.
TOP: Grapefruit, Lemon, Greens
MIDDLE: Green tea, Jasmine, Rose, Lily
BASE: Musk, Woods, Amber
Size: 500mL
<Frequently Asked Questions>
Does the concentrated type have a stronger fragrance than the regular type?
→The concentrated type made possible to make the product lasts longer since the amount of use for a time in fabric softener is decreased.
The fragrance has not been changed.
■Changes from regular type
Capacity:520mL→500mL
Number of uses: Approximately 13 times → Approximately 20 times
Price:£25→£28
※This Concentrated type is renewal type, released on 25 June 2021, of previous regular type. 
The regular type is available here.
Shake well. Use 25mL (about 1.5 bottle caps or to the next measurement line on the side of bottle label) per 40L of water or 3-4 kg of laundry during the rinse cycle.
[Suited for] Cotton, wool, synthetic fibers
5-15 % CATIONIC SURFACTANTS, <5% NON-IONIC SURFACTANTS, METHYLCHLOROISOTHIAZOLINONE, METHYLISOTHIAZOLINONE, PERFUMES, BENZYL BENZOATE, CITRAL, CITRONELLOL, LIMONENE, GERANIOL, HEXYL CINNAMAL, LINALOOL.