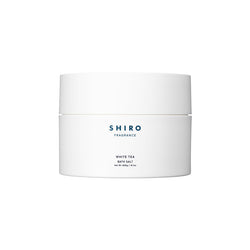 WHITE TEA BATH SALT (BOXLESS)
Adding the mineral-rich South Australian sun-dried salt to your bath, it not only moisturizes your skin, but also wraps around your body and warm them up.
Bath time surrounded by the refreshing and calming scent of "White Tea" creates a relaxing time.

Calming "White Tea" with a deep tea scent in a refreshing citrus tone.

Some fragrances in White Tea have been changed since July 2023.
TOP: Grapefruit, Lemon, Greens
MIDDLE: Green tea, Jasmine, Rose, Lily
BASE: Musk, Woods, Amber


Size: 400g
This product is without paper box
Put 50g (about 1/4 of a cap) into bath water (about 200L) and stir well before bathing.
It takes about 10 minutes for the salt grains to dissolve completely.
The contents are for approximately 8 times.
SEA SALT,SODIUM BICARBONATE,PARFUM,SODIUM ASCORBATE,BENZYL BENZOATE,CITRONELLOL,LIMONENE,GERANIOL,HEXYL CINNAMAL,LINALOOL.
・Is the fragrance significantly different from that before the renewal?
→The new White Tea is not significantly different from the previous version, as the composition of the existing fragrance has been retained. The balance of the fragrance has been changed so that the bergamot in the top note is stronger, and the lemon remaining in the middle to last notes is replaced by a deeper tea that leaves a stronger impression, resulting in a more profound fragrance. Yuzu distilled water has also been added to increase the moisturizing effect.
・Can the products be shipped overseas?
→Please contact the shipping company for more information.
・Can it be distinguished from the product before the reformulation?
→ The product with a 1cm bar line near the product barcode will be the product after the renewal.
How to distinguish products after the renewal.