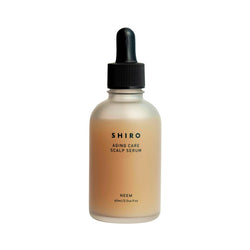 NEEM SCALP SERUM (BOXLESS)
For a healthy scalp and hair
A beauty essence for the scalp that is used daily as a "barometer of the scalp"
A serum containing neem leaf extract*1 and flax*2 is applied to the entire scalp and massaged to keep the scalp soft and healthy, and to grow firm and supple hair.

It not only moisturises the skin and hair, but also approaches damage to the scalp caused by dryness, itchiness, coloring, and perms.
The effect of promoting blood circulation softens the scalp and makes the face connected to the scalp with a single piece of skin bright and clean*3.
The refreshing and gentle warming effect*4 further enhances the blood circulation promoting effect of massage.

It is a "scalp barometer" that changes the sensation during use depending on the condition of the scalp.
Continue to use it will bring your scalp to a healthy condition.

* When the condition of the scalp is not good due to factors such as dryness, skin fluctuation, and rough skin, you may feel a slight tingling stimulus or a strong warmth. It will change depending on the condition of the day, so it seems that there is no problem, but if the tingling continues for a long time, please discontinue use.
*1 Neem Leaf Extract (Melia Azajirakuta Leaf Extract) / Moisturising / Skin Conditioning *2 Flax (Ama Seed Extract) / Skin Conditioning *3 Massage Effect *4 Vanillyl Butyl / Skin Conditioning

Size: 60mL
This product does not come in a box.

You can use it for about 22 times with 3 droppers at a time.
Shake well before using. After washing your hair, dry it with a towel and apply an appropriate amount (2 to 3 pumps) directly to your scalp.
Massage as if rubbing into the scalp and let it blend into the whole.
Neem: The neem tree has been used in India and Sri Lanka for traditional medicinal use. Often called a 'village pharmacy,' every part of the neem tree — its leaves, bark, branches and seeds — provides valuable elements. With various anti-inflammatory, anti-bacterial and immune-stimulating properties, it was also used in traditional Ayurvedic medicine. We source our neem oil from India and Africa, and our neem extract from India.
LIMNANTHES ALBA SEED OIL,GLYCERYL DIISOSTEARATE/HYDROGENATED ROSINATE,AQUA,MORINGA OLEIFERA SEED OIL,MACADAMIA TERNIFOLIA SEED OIL,PUNICA GRANATUM SEED OIL,SESAMUM INDICUM SEED OIL,DIGLYCERIN,BUTYLENE GLYCOL,PASSIFLORA EDULIS SEED OIL,CAPRYLIC/CAPRIC TRIGLYCERIDE,MELIA AZADIRACHTA SEED OIL,PARFUM,ALCOHOL,HYDROLYZED JOJOBA ESTERS,BOSWELLIA CARTERII OIL,BOSWELLIA SERRATA OIL,1,2-HEXANEDIOL,JOJOBA ESTERS,SPILANTHES ACMELLA FLOWER EXTRACT,MELIA AZADIRACHTA LEAF EXTRACT,KJELLMANIELLA CRASSIFOLIA EXTRACT,METHYLPARABEN,GLYCYRRHIZA URALENSIS ROOT EXTRACT,TOCOPHEROL,BHT,CITRAL,CITRONELLOL,LIMONENE,EUGENOL,GERANIOL,LINALOOL.
<Scent>
An oriental woody scent that combines fresh sweetness with fresh herbs and deep spiciness.

<Recommended for people like this>
・ People who are often in an environment that is easily dried by ultraviolet rays or air conditioners
・ Those who are worried about hair damage due to coloring or perm
・ Those who are concerned about skin stiffness, face line, and complexion from the scalp to the face * 4
<Frequently Asked Questions>
・ How many times do you use it? Is it a product as a special care?
→ It is effective to use it every day, but there is no rule.
Please use it according to your own scalp condition and lifestyle.
・ Can I use it during the day?
→ There is no problem in product design and effect when using it during the day, but since there is no styling effect, the root of the hair may get wet and appear to be volume down.
・ The scalp is tingling. Is it okay to use a hair dryer?
→ Some people feel a strong tingling sensation when starting to use it, but it depends on the product design.
There is no problem with using a dryer, but if you are concerned, please adjust the amount.