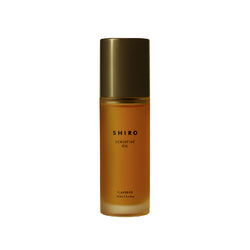 [OIL COLLECTION] FLAXSEED OIL (BOXLESS)
-SENSITIVE FACE & BODY OIL-
Flax oil protects and soothes sensitive skin

With its smooth texture, it blends effortlessly even on dry skin.
The ingredients contained in the oil protect and condition the skin, so people with sensitive skin can enjoy using it.
Flaxseed also has the power to keep the scalp soft and healthy, so if you are concerned about the dryness of your scalp before shampooing your hair, apply the oil to your hands and gently massage your scalp.

Scent: Mild nutty aroma with a soft scent of cedarwood

<Frequently Asked Questions>
・The oil has solidified in the bottle's mouth.
→ Flaxseed oil has the property of hardening when exposed to air. There is no problem with quality, even in this state.
After use, please wipe the bottle's mouth and close the cap properly.

Size: 50mL
This product does not come in a box.

It is recommended to be used as a massage oil and for looking after the areas of concern for dryness on face and body.
FLAXSEED -Tokachi, Hokkaido, Japan-
Flaxseed oil contains many unique nutrients, such as omega-3 and linoleic acid.
Hokkaido Tokachi Agricultural Workshop carefully extracts flaxseed oil drop by drop using the traditional oil extraction method.
In addition, they do not throw away the pomace after the oil extraction and use it as a feed instead of throwing it away.
Extraction method: Oil is extracted by a cold press method that carefully squeezes the seeds without applying heat.
LINUM USITATISSIMUM SEED OIL, COPAIFERA OFFICINALIS RESIN OIL, JUNIPERUS MEXICANA OIL, JUNIPERUS VIRGINIANA WOOD OIL, PERFUM, LINALOOL.