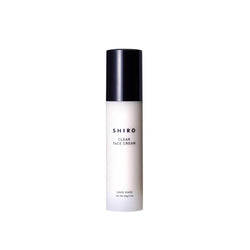 SAKE KASU FACIAL CREAM (BOXLESS)
Replenish your skin with long-lasting moisture. With the hydrating power of sake kasu and a blend of sesame, flaxseed and shea oils, this face cream veils your face for firmer and softer skin.
*Please do not use if you are allergic to sesame.*
Size: 45g
This product does not come in a box.
After cleansing skin and applying lotion and serum, gently massage 1 pump around entire face.
Sake Kasu: Our sake kasu is sourced from from Kobayashi Brewery, a historic sake brewery in Hokkaido, Japan. With a delicate and sweet fragrance, it's also full of nourishing and highly moisturising rice extract and kouji that helps achieve smooth, hydrated skin.
Flaxseed: Our flaxseed, sourced from Tokachi in Hokkaido, Japan, is gently pressed to extract oils that help protect skin from dehydration and inflammation. A source of omega-3 and other ingredients that promote beautiful skin, our flaxseed oil helps achieve smooth and healthy skin.
Sesame: With a rich, natural scent and an abundance of essential elements for beautiful skin, sesame is highly recommended for aging care.
AQUA, RICE FERMENT LEES, SESAMUM INDICUM SEED OIL, LINUM USITATISSIMUM SEED OIL, GLYCERIN, CETEARYL ALCOHOL, BUTYROSPERMUM PARKII BUTTER, BUTYLENE GLYCOL, STEARIC ACID, 1, 2-HEXANEDIOL, ARGININE, LYSOLECITHIN, METHYLPARABEN, XANTHAN GUM.