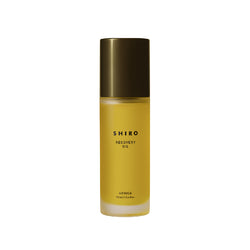 [OIL COLLECTION] ARNICA OIL (BOXLESS)
-RECOVERY BODY OIL-
Arnica oil relaxes the body and leaves you feeling refreshed.

Using it on various body parts that have been active during the day, would help recharge your batteries to stay active for the next day with a lot more energy.
It has a characteristic herbal scent and is recommended to use as an oil massage after exercise or when you are feeling tired.
Enjoy the refreshing feeling after applying the oil and by slowly relaxing your shoulders and neck from being tense all day.

Scent: Gentle herbs and refreshing scent of peppermint

Size: 50mL
This product does not come in a box.

It is rIt is recommended to be used as a massage oil and for looking after the areas of concern for dryness on face and body.
Recommended areas to use: shoulder, neck, decolletage, back, calves and soles of the feet

<RECOMMENDED USAGE>


On days when your head feels heavy, and you feel tired behind your eyes, we recommend a head massage using arnica oil.
Apply the oil from head to shoulders while soaking in the bathtub.
For the shoulders and neck, gently rub the palms against the skin, and use the fingers' pads to loosen the head's stiffness.
Afterward, use your regular shampoo to feel refreshed.
ARNICA -France-
Arnica inflorescence contains more than 150 species of flavonoids, carotenoids, etc.
Contains beneficial ingredients for the skin. For a long time in Europe,
Known as the "guardian deity of muscles and bruises," it has been loved by sports and people who exercise regularly.
Extraction method: To extract, the Arnica flowers are soaked in sunflower oil.
OLEA EUROPAEA FRUIT OIL, MENTHA ARVENSIS LEAF/STEM OIL, LAVANDULA HYBRIDA OIL, ARNICA MONTANA FLOWER EXTRACT, ORIGANUM MAJORANA LEAF OIL, COUMARIN, LIMONENE, GERANIOL, LINALOOL.