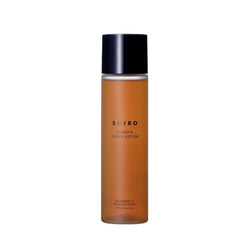 RHUBARB & RUGOSA ROSE CLEAR LOTION (BOXLESS)
Gently remove makeup and exfoliate for more radiant skin. Using the same base as our popular rhubarb and rugosa rose serum, this cleansing lotion improves skin absorption for a more glowing appearance. Rhubarb, which contains citric acid and malic acid, serves as a natural facial peel to smooth out imperfections, while rugosa rose, high in polyphenol and vitamin C, hydrates skin.
We recommend thoroughly soaking cotton pads when using, as lint from partially damp cotton may damage skin.
Size: 120mL
This product does not come in a box.
After cleansing, apply cleansing lotion liberally to cotton pad and gently wipe face, avoiding eyes and lips.
For best results, we recommend this routine:
Face cleanser → cleansing lotion → booster → face lotion → serum → face cream
Rhubarb: Rhubarb contains citric acid and malic acid, making it an effective, natural facial peel. Our rhubarb is sourced from Memuro City in Hokkaido, Japan, and produces a rich, red extract that smooths out your skin's texture and conditions for a glowing appearance.
Rugosa Rose: High in polyphenol and vitamin C, rugosa rose essence hydrates skin while adding a delicate, rosy fragrance.
AQUA, BUTYLENE GLYCOL, ALCOHOL, RHEUM RHABARBARUM STALK EXTRACT, SODIUM CITRATE, METHYLPARABEN, 1, 2-HEXANEDIOL, ROSA RUGOSA FLOWER EXTRACT.