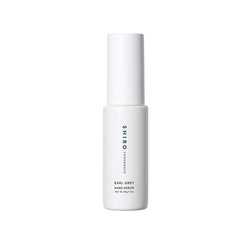 EARL GREY HAND SERUM (BOXLESS)
Protect your hands with a luxurious layer of moisture.
This smoothing hand serum contains jojoba oil*1, gagome kombu*2, and shea butter*3 that replenishes moisture.
Its light texture blends in smoothly within the skin whilst moisturising the hands for a smoother touch.
An intensive care for dry and rough hands due to housework or excessive hand washing.
The scent of "Earl Gray" is inspired by the rich fragrance that spreads when you take a sip of the tea.
*1 Jojoba seed oil *2 Gagome extract *3 Shea butter (all for moisturising)
Size: 30g
This product without Paper Box
Apply an appropriate amount to dry areas such as hands and fingers.
AQUA,BUTYLENE GLYCOL,GLYCERIN,
SIMMONDSIA CHINENSIS SEED OIL,PARFUM,
OCTYLDODECYL MYRISTATE,HYDROGENATED
CASTOR OIL ISOSTEARATE,BUTYROSPERMUM
P A R K I I B U T T E R , D I E T H Y L P E N T A N E D I O L
D I N E O P E N T A N O A T E , 1 , 2 - H E X A N E D I O L ,
H Y D R O X Y E T H Y L A C R Y L A T E / S O D I U M
ACRYLOYLDIMETHYL TAURATE COPOLYMER,
PHENOXYETHANOL,CARBOMER,SQUALANE,
A R G I N I N E , H Y D R O G E N A T E D L E C I T H I N ,
POLYSORBATE 60,TOCOPHEROL,XANTHAN GUM,
SORBITAN ISOSTEARATE,KJELLMANIELLA
CRASSIFOLIA EXTRACT,METHYLPARABEN,
BENZYL BENZOATE,CINNAMYL ALCOHOL,
CITRAL,CITRONELLOL,LIMONENE,GERANIOL,
HEXYL CINNAMAL,LINALOOL.