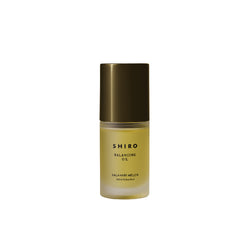 [OIL COLLECTION] KALAHARI MELON OIL (BOXLESS)
-BALANCING FACE OIL-
Kalahari melon oil leads to a fresh and clear skin.

Kalahari melon oil has a water retaining effect. It is excellent for taking care of the firmness and elasticity of the skin that UV rays have damaged or are slightly dry.
It penetrates quickly into the stratum corneum and keeps it soft without clogging pores.
It can also be used as a hair care oil for damaged hair due to UV rays and dryness.

Scent: Smoky Kalahari melon, refreshing yuzu, and slightly sweet woody scent.

Size: 30mL
This product does not come in a box.

Incorporate it into your daily skincare steps and use it at a comfortable time.
・Start your skincare routine with oil
After washing your face, apply it right at the beginning of the skincare routine to keep your skin soft and enhance the effect of skin care.
・Mix with serum
Mixing the oil with beauty essence makes it easier and faster to reach and moisturize the outer layer of the skin. We recommend using a moisturizing serum.
・For oil mask
While soaking in the bathtub, spread plenty of oil all over your face and use it as a luxurious oil mask.
<RECOMMENDED USAGE>


Pre-cleansing with Kalahari melon oil is recommended for special evening skin care.
Before cleansing, take plenty of oil to avoid friction, and gently massage areas of concern such as outside of the nostrils.
After when the makeup and oil have been blended, place a hot towel on your face and warm your skin for about 5 minutes.
After that, cleanse and wash your face as usual. You will feel the roughness of the skin removed, and the finish will be smooth.
KALAHARI MELON -South Africa-
The Kalahari Melon grows in the Kalahari Desert in South Africa, which is said to be one of the driest places on earth. The oil extracted from the seeds contains a large amount of linoleic acid.
They are traditionally used as a moisturizer to protect the skin from the UV rays.
Extraction method: Kalahari melon seeds are pressed to extract the oil.
CITRULLUS LANATUS SEED OIL, CITRUS JUNOS PEEL OIL, CINNAMOMUM CAMPHORA BARK OIL, BOSWELLIA CARTERII OIL, SALVIA SCLAREA OIL, LAVANDULA ANGUSTIFOLIA OIL, CITRUS AURANTIFOLIA OIL, CITRAL, LIMONENE, GERANIOL, LINALOOL.