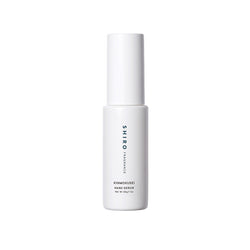 KINMOKUSEI HAND SERUM(BOXLESS)
Protect your hands with a luxurious layer of moisture.
This smoothing hand serum contains jojoba oil*1, gagome kombu*2, and shea butter*3 that replenishes moisture.
Its light texture blends in smoothly within the skin whilst moisturising the hands for a smoother touch.
An intensive care for dry and rough hands due to housework or excessive hand washing.
A nostalgic scent of "Kinmokusei"(Osmanthus) with a sweet and gentle scent reminiscent of fruit.
*1 Jojoba seed oil *2 Gagome extract *3 Shea butter (all for moisturising)
Size: 30g
This product does not come in a box.
Apply an appropriate amount to dry areas such as hands and fingers.
A Q U A , B U T Y L E N E
GLYCOL,GLYCERIN,SIMMONDSIA CHINENSIS
S E E D O I L , P A R F U M , O C T Y L D O D E C Y L
MYRISTATE,HYDROGENATED CASTOR OIL
ISOSTEARATE ,BUTYROSPERMUM PARKI I
B U T T E R , D I E T H Y L P E N T A N E D I O L
DINEOPENTANOATE,1,2-HEXANEDIOL,HYDROXYE
THYL ACRYLATE/SODIUM ACRYLOYLDIMETHYL
TAURATE COPOLYMER,PHENOXYETHANOL,
CARBOMER,SQUALANE,ARGININE,HYDROGENAT
ED LECITHIN,POLYSORBATE 60,TOCOPHEROL,
XANTHAN GUM,SORBITAN ISOSTEARATE,
K J E L L M A N I E L L A C R A S S I F O L I A
E X T R A C T ,MET H Y L P A R A B E N , B E N Z Y L
ALCOHOL,BENZYL BENZOATE,CITRONELLOL,
LIMONENE,LINALOOL.