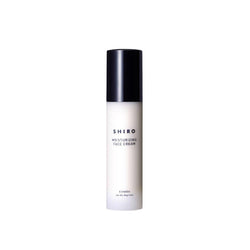 KOMBU FACIAL CREAM (BOXLESS)
Replenish your skin with ultimate hydration. Our face cream locks in your lotion and serums. With the moisturising power of gagome kombu and a blend of sesame, flaxseed and shea oils, this face cream veils your skin to improve its resilience.
*Please do not use if you are allergic to sesame.*
Size: 45g
This product does not come in a box.
After cleansing skin and applying lotion and/or serum, gently massage 1 pump of cream onto face.
Gagome Kombu: Rich with nutrients deep from the sea, our gagome kombu is sourced from Hakodate, Hokkaido. It contains especially high amounts of gelatinous compounds full of fucoidan and alginic acid, which helps skin retain its moisture.
Sesame: With a rich, natural scent and an abundance of essential elements for beautiful skin, sesame is highly recommended for aging care.
AQUA, GLYCERIN, CETEARYL ALCOHOL, SESAMUM INDICUM SEED OIL, LINUM USITATISSIMUM SEED OIL, BUTYLENE GLYCOL, BUTYROSPERMUM PARKII BUTTER, STEARIC ACID, 1, 2-HEXANEDIOL, ARGININE, LYSOLECITHIN, KJELLMANIELLA CRASSIFOLIA EXTRACT, METHYLPARABEN.