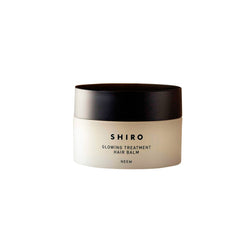 NEEM HAIR BALM (BOXLESS)
Hair balm that moisturises and nourishes hair
Multi-item that can be used for hair care and styling, and moisturising hands and whole body
Rich combination of neem oil*1, shea butter*2, and olive oil*1.
Moisturises hair that is easy to dry and leads to cohesive hair for stylish styling.

When you scoop up a soft balm and apply it to your palm, it melts at body temperature and turns into a smooth oil.
You can freely enjoy the hair set according to the mood of the day, such as creating a wet luster or attaching it to the ends of the hair in a bundle to add natural movement.
Moisturises hair that is easy to get rid of and cut hair.

The balm left on your hands with the hair set can be used as it is for moisturising areas where you are concerned about dryness, such as your hands and elbows.
It is also recommended to use it as a non-rinse treatment before going to bed.

*1 Neem oil (Melia Azajirakuta seed oil) / Moisturising / skin conditioning *2 Shea butter (shea butter) / Moisturising *3 Olive oil (olive fruit oil) / Moisturising
* If you are allergic to sesame seeds, please refrain from using it.

Size: 40g
This product does not come in a box.
Take a small amount and spread it in the palm of your hand before use. It can also be used for hair styling, hair treatments and whole body care.
Neem: The neem tree has been used in India and Sri Lanka for traditional medicinal use. Often called a 'village pharmacy,' every part of the neem tree — its leaves, bark, branches and seeds — provides valuable elements. With various anti-inflammatory, anti-bacterial and immune-stimulating properties, it was also used in traditional Ayurvedic medicine. We source our neem oil from India and Africa, and our neem extract from India.
SIMMONDSIA CHINENSIS SEED OIL,PRUNUS ARMENIACA KERNEL OIL,C13-15 ALKANE,CERA ALBA,OLEA EUROPAEA FRUIT OIL,BUTYROSPERMUM PARKII BUTTER,CRAMBE ABYSSINICA SEED OIL,SESAMUM INDICUM SEED OIL,PARFUM,LIMONENE,MELIA AZADIRACHTA SEED OIL,BOSWELLIA SERRATA OIL,TOCOPHEROL,BHT,CITRAL,CITRONELLOL,GERANIOL,LINALOOL.
<Scent>
A soothing scent with a hint of sweetness and spiciness, blended with lavender, chamomile and frankincense.
<Recommended for people like this>
・ Those who want to enjoy styling while caring for dry hair
・ Those who are worried about rough skin caused by styling products
・ Those who want to create a glossy style
<Frequently Asked Questions>
・ Why can it be used on the body?
→ This is because it does not contain polymers for hair styling, but contains vegetable oils such as shea butter and olive oil, which are also recommended for moisturizing the body.
・ Can I use it at night?
→ Yes, there is no problem. It can also be used as a type of treatment that does not need to be washed off at night.
・ Can I use it on my face?
→ It is a prescription that can be used on the face without any problem, but we recommend to you use it as a hair product.