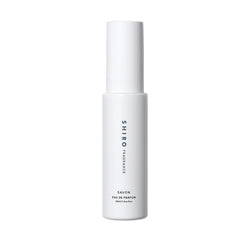 SAVON EAU DE PARFUM 22 (BOXLESS)
This perfume features citrus and fruity notes such as lemon, orange, and blackcurrant with a gentle sweetness.
An easy scent to use for people of all ages in any season. You can enjoy the variations of strengths of this scent depending on where you apply it, such as the neck, wrists, or your arms.

The scent of "Savon" is inspired by clean soap with refreshing fruity notes.

In accordance to the new IFRA regulations*1, we have reformulated SAVON EAU DE PARFUM *2.

<Duration of fragrance> About 5-6 hours

POINT
・If you want a strong scent, use it on your wrists, neck behind your ears or anywhere that has a pulse.
・When you wish to enjoy the scent at your own leisure at home - we recommend using it on your ankles, inner thighs, and around your waist.

TOP: Lemon, Orange, Blackcurrant, Lychee
MIDDLE: Rose, Jasmine, Muguet, Plum
BASE: Musk, Amber, Woods, Sweet
Size: 40mL

This product does not come in a box.

*1 The International Fragrance Association
*2 The target ingredient is "Lilial". The possibility of being an allergen was reported, and the usage limit of ingredient has been changed. However, SHIRO has never received any case reports of health damage caused by these ingredients in SHIRO products.
Spray an appropriate amount about 15cm away from the skin.
ALCOHOL, PARFUM, AQUA, BENZYL BENZOATE, CITRAL, CITRONELLOL, LIMONENE, GERANIOL,HEXYL CINNAMAL, HYDROXYCITRONELLAL, LINALOOL
・Is there a substantial difference between the scents after the reformulation?
→The new Savon range is finished with a similar composition as the former scent, therefore there is no significant difference.
We enhanced the citrus and fruity accords of the top notes to add more freshness. Additionally, the base note is slightly less sweet, making it easier for people of all ages to use in any season.
・Can you put it on your hair or clothes?
→Because of the use of alcohol, application on hair and clothes may get damaged, so please refrain from applying them directly.
To enjoy the soft scent on your hair and clothes, we recommend spraying the air once or twice and passing through.
・How long can the scent of Eau de Parfum be preserved if stored unopened?
→It is manufactured so that the quality can be maintained for three years in an unopened state.
To prevent deterioration, please use it as soon as possible after opening it.
It is recommended to store at room temperature, avoiding hot and humid places.
・Can you ship overseas?
→Since regulations may differ depending on the type of international mail and transportation, please check with the transportation company for details.
・Can it be distinguished from the product before the reformulation?
→ The product with a 1cm bar line near the product barcode will be the product after the renewal.
How to distinguish products after the renewal.