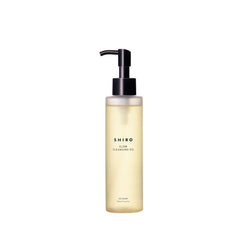 SESAME CLEANSING OIL (BOXLESS)
Remove makeup while restoring moisture. Since ancient times, sesame oil has been used in India as an Ayurvedic massage oil. Our simple formula thoroughly removes the toughest makeup while hydrating skin.
*Please do not use if you are allergic to sesame.*
Size: 150mL
This product does not come in a box.

Apply appropriate amount onto dry hands and blend well into makeup. Rinse off well with water or lukewarm water.
Sesame: With a rich, natural scent and an abundance of essential elements for beautiful skin, sesame is highly recommended for aging care.
SESAMUM INDICUM SEED OIL, PEG-20 GLYCERYL TRIISOSTEARATE.