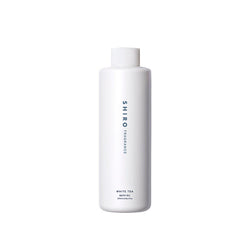 【BEFORE RENEWAL】WHITE TEA BATH OIL (BOXLESS)
Bath oil that allows you to enjoy a pleasant scent while moisturising your skin with the blessings of nature

Now that the time in the room is increasing and it is difficult to change your mode and mind, the bath time to heal the tiredness of the day can be reset to your own.

Contains sunflower oil * 1 and unrefined shea butter * 2 from Ghana.
Milky white water wraps the skin and gives it rich moisture.
It blends smoothly into dry skin, and the soft water makes the skin moist and smooth.
Even after getting out of the bath, you can keep the veil of moisture and shorten the time when you want to finish body care easily.

This bath oil is recommended not only for full-body baths, but also for half-body baths and foot baths.
A calming, gentle and elegant scent full of freshness of citrus and green.


* 1 Sunflower seed oil / moisturiser * 2 Shea butter / moisturiser
TOP: Grapefruit, Lemon, Greens
MIDDLE: Green tea, Jasmine, Rose, Lily
BASE: Musk, Woods, Amber


Size: 200mL
This product does not come in a box.

Put an appropriate amount (about 5 caps) of this product in the hot water of the bathtub (about 200L), stir well and take a bath.
A cap is about 6 mL.
Please adjust the amount according to the amount of hot water in the bathtub at home.
* You do not need to wash your body after taking a bath.
Please apply it to your skin as it is.
[Precautions for use]
* Some bath kettles, such as 24-hour baths, cannot be used depending on the model.
Please check the instruction manual of your model before using.
* Ingredients may adhere to the bathtub, so wash away the remaining hot water without leaving it for a long time.
After use, wash the bath pot and circulation hole filter with water.
* Please avoid using the remaining hot water for washing.
* Please note that the bathtub becomes slippery.
* This product does not contain sulfur that damages bathtubs and bath kettles.
Shea Butter: Sourced directly from Ghana, our unrefined shea butter is distilled without any unnecessary steps to preserve its natural scent and effectiveness. This rich, highly moisturising butter can be used on all areas of your body.
HELIANTHUS ANNUUS SEED OIL,POLYSORBATE 85,PARFUM,BUTYROSPERMUM PARKII BUTTER,AQUA,BENZYL BENZOATE,CITRAL,CITRONELLOL,LIMONENE,GERANIOL,HEXYL CINNAMAL,LINALOOL.
<Recommended usage>
Mix an appropriate amount of bath oil with lukewarm water and bathe for 10 to 20 minutes.
You can enjoy a relaxing bath time with a warm bath.
You can enjoy a richer scent by using body care items with the same scent.
<Estimated number of times of use> One bottole can be used for about seven times.