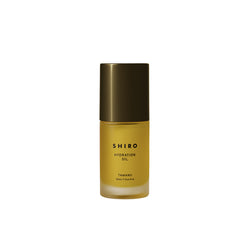 [OIL COLLECTION] TAMANU OIL (BOXLESS)
-HYDRATION FACE OIL-
Tamanu oil leads to a soft, moisturized and firm skin with each application.

Tamanu oil is rich in vitamin C, polyphenols, and tocotrienols, also known as super vitamin E, and it helps to treat age-related skin concerns.
When the skin feels tired, it is used as a savior for dullness caused by dryness and perhaps age.
Additionally, tamanu oil has the power to protect the skin from the sun, through its natural ingredients.
Scent: Sweet and refreshing scent of bergamot and geranium.

Size: 30mL
This product does not come in a box.
Incorporate it into your daily skincare steps and use it at a comfortable time.
・Start your skincare routine with oil
After washing your face, apply it right at the beginning of the skincare routine to keep your skin soft and enhance the effect of skin care.
・Mix with serum
Mixing the oil with beauty essence makes it easier and faster to reach and moisturize the outer layer of the skin. We recommend using a moisturizing serum.
・For oil mask
While soaking in the bathtub, spread plenty of oil all over your face and use it as a luxurious oil mask.
TAMANU - Okinawa Prefecture, Japan
In tropical regions, Tamanu has been used since ancient times for the health and beauty of the skin.
Tamanu oil from Okinawa Prefecture is extracted through several processes.
Clean kernels are selected by hand to extract the fresh, golden oil without harshness or impurities.
Mr. Usami's commitment is to produce the highest-quality oil which can only be made with time and a lot of effort.
Extraction method: Squeeze the kernel in the fruit and extract the oil.
CALOPHYLLUM INOPHYLLUM SEED OIL, PARFUM, PELARGONIUM GRAVEOLENS OIL, CITRUS AURANTIUM BERGAMIA PEEL OIL, LITSEA CUBEBA FRUIT OIL, CITRAL, CITRONELLOL, LIMONENE, EUGENOL, GERANIOL, LINALOOL.