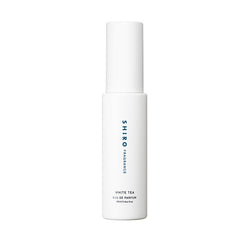 WHITE TEA EAU DE PARFUM (BOXLESS)

Calming "White Tea" with a deep tea scent in a refreshing citrus tone.

Enjoy the scent that changes over time to your heart's content.

<Duration of fragrance> About 5-6 hours

<Recommended Use>
・When you want strong fragrance, apply around the wrists, neck, or behind the ears near the face, where you can easily scent the fragrance.
・The soft fragrance is suitable for both men and women, and can be used in the office or at the dinner table.

Some fragrances in White Tea have been changed since July 2023.
Click here to see the products before the renewal.
TOP: Grapefruit, Lemon, Greens
MIDDLE: Green tea, Jasmine, Rose, Lily
BASE: Musk, Woods, Amber


Size: 40mL
This product does not come in a box.
Spray an appropriate amount about 15cm away from the skin.
ALCOHOL,PARFUM,AQUA,HEXYL CINNAMAL,LIMONENE,BENZYL BENZOATE,BENZYL ALCOHOL,CITRAL,CITRONELLOL,EUGENOL,GERANIOL,LINALOOL.
・Is the fragrance significantly different from that before the renewal?
→The new White Tea is not significantly different from the previous version, as the composition of the existing fragrance has been retained. The balance of the fragrance has been changed so that the bergamot in the top note is stronger, and the lemon remaining in the middle to last notes is replaced by a deeper tea that leaves a stronger impression, resulting in a more profound fragrance. Yuzu distilled water has also been added to increase the moisturizing effect.
・Is it possible to purchase the fragrance before the renewal?
→Yes, you can purchase it from the following page. However, it will discontinued as current stock runs out.
Click here to see the product before renewal.
・Is it fine to put it on my hair or clothes?
→Since alcohol is used, please refrain from putting it directly on your hair or clothes, as it may damage them.
To enjoy the soft fragrance in your hair or clothes, we recommend spraying it once or twice in a space and passing under it.
・How long will eau de parfum keep its fragrance if stored unopened?
→The eau de parfum is manufactured to retain its quality for up to 3 years in unopened containers.
To prevent deterioration, please use it as soon as possible after opening.
We recommend storing at room temperature and avoiding high temperature and humidity.
・Can the products be shipped overseas?
→Please contact the shipping company for more information.
・Can it be distinguished from the product before the reformulation?
→ The product with a 1cm bar line near the product barcode will be the product after the renewal.