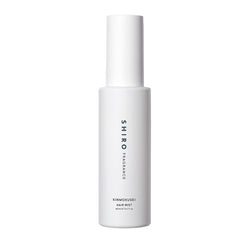 KINMOKUSEI HAIR MIST (BOXLESS)
With gagome kombu*1 extract and yuzu*2 ceramide, this hair mist moisturises and reduces damage for shinier and smoother hair. Also adds a hint of the sophisticated fragrance to your hair.
•A nostalgic scent of "Kinmokusei"(Osmanthus) with a sweet and gentle scent reminiscent of fruit.
*1 Gagome extract *2 Yuzu fruit extract, Yuzu peel water (both moisturising)
<Recommended usage>
After applying the "Hair Mist" to the entire hair, apply the "Hair Oil" to the ends of the hair for a more manageable and glossy finish.
Size: 80mL
This product does not come in a box.
Spray an appropriate amount about 10 cm away from the hair. Please use it before styling products such as hair oil.
AQUA,ALCOHOL,GLYCERIN,
CITRUS JUNOS PEEL WATER,DIPROPYLENE
GLYCOL,PARFUM,PEG-40 HYDROGENATED
CASTOR OIL,BETAINE,BUTYLENE GLYCOL,
D I H Y D R O X Y P R O P Y L A R G I N I N E
HCl,METHYLPARABEN,PHENOXYETHANOL,
K J E L L M A N I E L L A C R A S S I F O L I A
E X T R A C T , C I T R U S J U N O S F R U I T
EXTRACT,BENZYL ALCOHOL,BENZYL
BENZOATE,CITRONELLOL,LIMONENE,LINALOOL