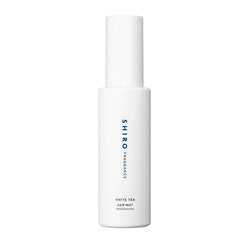 WHITE TEA HAIR MIST (BOXLESS)
 With gagome kombu extract*1 and yuzu*2 ceramide, this hair mist moisturises and reduces damage for shinier and smoother hair. Also adds a hint of the sophisticated fragrance to your hair.
Calming "White Tea" with a deep tea scent in a refreshing citrus tone.

<Recommended usage>
After applying the "Hair Mist" to the entire hair, apply the "Hair Oil" to the ends of the hair for a more manageable and glossy finish.

*1 Gagome extract *2 Yuzu fruit extract, Yuzu peel water (both moisturising)

Some fragrances in White Tea have been changed since June 2023.
Click here to see the products before the renewal.


Size: 80mL
This product does not come in a box.
Spray an appropriate amount about 10 cm away from the hair. Please use it before styling products such as hair oil.
AQUA,ALCOHOL,GLYCERIN,CITRUS JUNOS PEEL WATER,DIPROPYLENE GLYCOL,PEG-40 HYDROGENATED CASTOR OIL,BETAINE,PARFUM,BUTYLENE GLYCOL,DIHYDROXYPROPYL ARGININE HCl,METHYLPARABEN,PHENOXYETHANOL,KJEL LMANIELLA CRASSIFOLIA EXTRACT,CITRUS JUNOS FRUIT EXTRACT,BENZYL BENZOATE,CITRAL,CITRONELLOL,LIMONENE,GERANIOL,HEXYL CINNAMAL,LINALOOL.
・Is the fragrance significantly different from that before the renewal?
→The new White Tea is not significantly different from the previous version, as the composition of the existing fragrance has been retained. The balance of the fragrance has been changed so that the bergamot in the top note is stronger, and the lemon remaining in the middle to last notes is replaced by a deeper tea that leaves a stronger impression, resulting in a more profound fragrance. Yuzu distilled water has also been added to increase the moisturizing effect.
・Can the products be shipped overseas?
→Please contact the shipping company for more information.
・Can it be distinguished from the product before the reformulation?
→ The product with a 1cm bar line near the product barcode will be the product after the renewal.
How to distinguish products after the renewal.