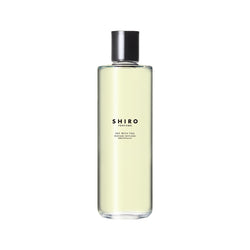 JOY WITH YOU PERFUME DIFFUSER LIQUID WITH 10 STICKS (BOXLESS)
A refill liquid for a perfume diffuser decanted in a glass vase.
Refill the glass vase (sold separately) and enjoy the gentle and elegant floral scent of JOY WITH YOU spreading in your space.

* Please refill into the separately sold PERFUME DIFFUSER GLASS VASE .
* PSERFUME DIFFUSER STICKS(10 sticks) are included and also sold separately.
* Length of Diffuser Stick: 46cm

TOP: Lemon, Bergamot, Apricot
MIDDLE: Hyacinth, Muguet, Jasmine, Ylang-Ylang
BASE: Musk, Amber, Sandalwood

Size: 500mL
This product does not come in a box.
Notice of Price Reduction starting Friday, 6 October 2023. Chick here for more details.
Pour this product into the perfume diffuser glass jar (container body) and spread it by inserting the desired number of sticks.
*Please note that it may overflow if all is poured.
*One bottle of this product can be used for about 5 months.
* Please decant in a flat and safe place so that the bottle does not fall over.
* If the liquid adheres to the floor or furniture, stains may remain, so we recommend that you be extra cautious when decanting the product and use something to protect the floor or the base to prevent staining.
* When pouring the liquid into the glass jar, please do carefully so that the liquid doesn't reach the top of the jar to prevent dripping. When changing the installation location, please be aware that the container body may shake and the liquid inside may adhere to the lid and cause dripping.
<CAUTION> Flammable
ALCOHOL, DIPROPYLENE GLYCOL, DEATONIUM BENZOATE, FRAGRANCE, ALPHA-ISOMETHYL IONONE, CINNAMYL ALCOHOL, CITRONELLOL, LIMONENE, HEXYL CINNAMAL, ISOEUGENOL